Dave Wright Auto: Dedicated to Serving Our Customers Automotive Needs
Welcome to the homepage of the Dave Wright Nissan Subaru Technician Experience! As a company, we have doubled every 5 years for the last 15 years, and plan to continue that explosive growth. This means we need to add quality individuals to our knowledgeable service team. 
Dave Wright Nissan Subaru has been voted 'Best Dealership to Work For' 8 years! Below you will find what makes Dave Wright Nissan Subaru different from other shops around, and why you should join the Dave Wright family. 
Compensation
Benefits
Company Benefits
401K with Company Match
Health Insurance
Dental Insurance
Life Insurance
Shop Amenities 
In-floor heating

Centrally located parts department

14 hoists, 2 dead stalls, alignment rack, 2 express hoists and an undercoat rack for a total of 20 bays

Brake lathe, 2 tire machines, parts washer

Every hoist has a laptop, printer and 2 ethernet plugin ports

Brand new, state-of-the-art building
Work Environment
Shop Hours
Monday - Friday 7:30AM - 5:00PM
Saturday Rotation (2 Technicians per Saturday) 8:00AM - 1:00PM
What is important to our Technicians?
Communication with co-workers, customers and management

Taking pride in our work and enjoying what we do

Taking pride in ourselves as technicians and performing work correctly, the first time

Having an organized schedule

Ability to grow and receive training

Being able to make a good living with a competitive wage

Cleanliness of the shop and the customer vehicles we're working on

Feeling appreciated for our hard work

Knowing that there will be work available
Culture
Family oriented

Welcoming environment

Laid back atmosphere

Techs are willing to help each other out

Techs know how to get work done

Our culture is built upon serving everyone around us
How many repair orders does the Service Department average per month?
1,975 (Year of 2020)- this includes the shut down time from the derecho and any loss of business from COVID

We also currently average 1.46 hours per repair order (Year of 2020)
Technicians Average 15 Hours Per Day Per Technician. Breakdown Below.
1,975 Repair Orders 

X 12 months 

= 23,707 Repair Orders

23,707 Repair Orders 

➗ 52 weeks in a year 

= 455 Repair Orders Per Week

455 Repair Orders Per Week 

➗ 9 Technicians 

= 50.65 Repair Orders Per Tech Per Week

50.65 Repair Orders Per Tech Per Week 

➗

 5 Days Per week 

= 10 Repair Orders per Tech per Day

10 Repair Orders per Tech per Day

 

X 1.46 Hours per Repair Order

 

= 14.7898 Hours Per Day Per Technician
What is the Parts process? 
90%+ off the shelf fill rate

Stock high

 

moving parts

Next day ordering from manufacturers 

Same day from various local vendors

Over 3,000 square feet of parts storage, plus up to 10,000 more square feet coming
Master Technicians
5 of our 9 Main Shop Technicians are currently Master/Senior Master Certified Technicians with our manufacturers

All of our techs are ASE Master Certified

We want to send our technicians to training

The more master technicians we have, the more capable our shop is... t

he more capable the shop is, the more customers we can serve

We have our Tech 120 program, which lays out the career path to becoming a Master Technician
Career Development
What does career development look like?
Technician 120 Program
Our program with multiple levels can take anyone from entry level all the way up to a Master Technician

Maps out time frames in each level of the program

Maps out pay scale in each level of the program

Includes core competencies in each level

Can start out in any level depending upon experience (don't have to start at the 

beginning of the program)
Have any questions about our program or want to see it in person?Feel free to stop in and take a look. We would love to walk you through it!
We love sending our technicians to training

Our company is growing at a very rapid rate and l

ots of new opportunities are becoming available 

We prefer to promote from within

We are looking for technicians of all skill levels
Hiring Process
What is our hiring process like? 
Come meet us. Hang out in the shop for a few hours and get to know our employees.

Sit down with our manager to ask any questions you may have after hanging out in the shop.

Apply online.

References and AVA Assessment.

In-Person Interview.

2nd in-person interview.

Onboarding.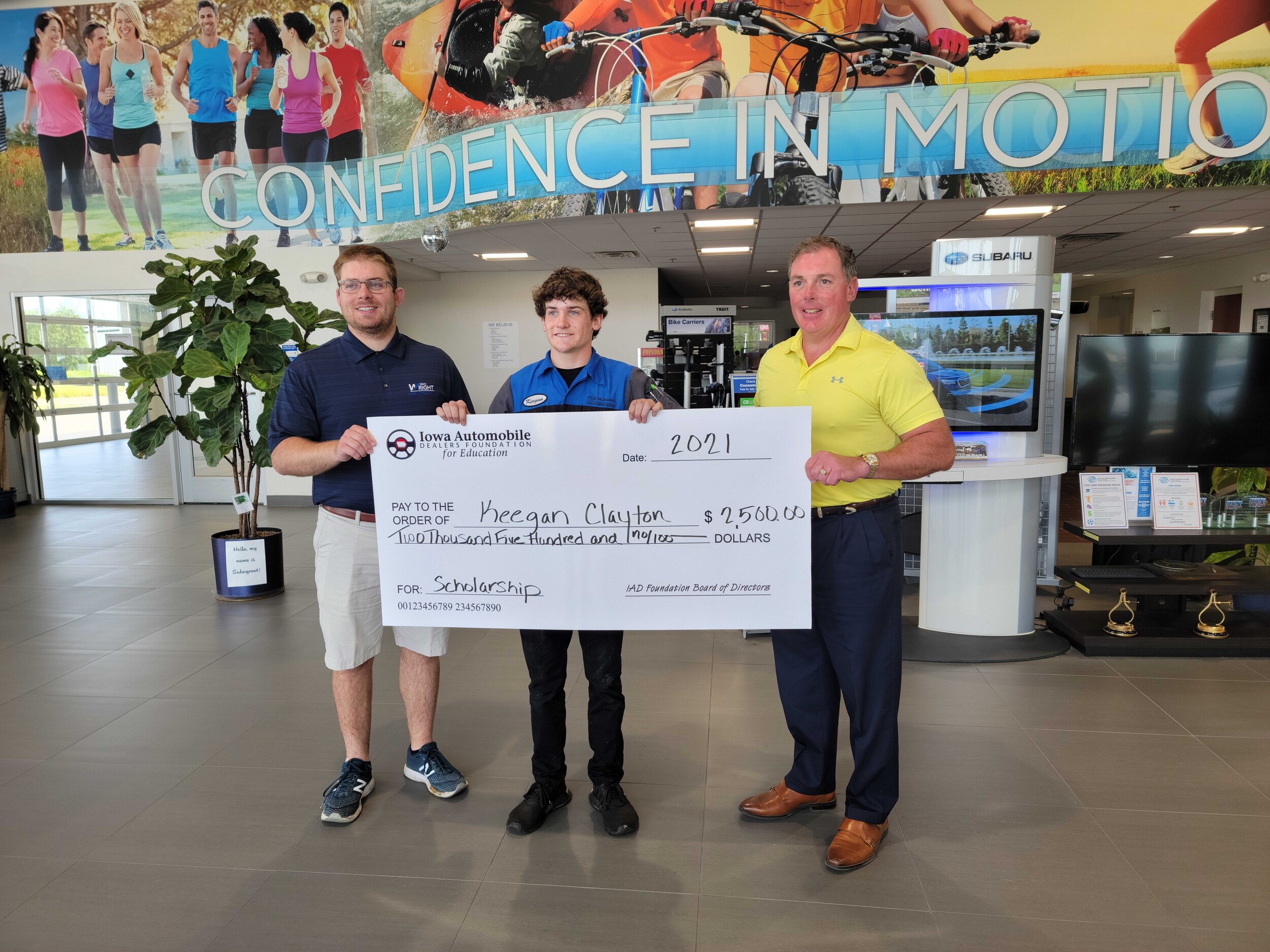 Scholarship from Iowa Automobile Dealers Association for our Express Technician, Keegan Clayton, to continue his education in the Kirkwood Technician Program.
Hours
Monday - Friday

7:30am-5:00pm

Saturday

8:00am-1:00pm

Sunday

Closed